Accessing and Generating Reports
17 Feb 2023

1 Minute to read
Accessing and Generating Reports
Updated on 17 Feb 2023

1 Minute to read
---
Get insight into your business using Helcim's robust reporting capabilities.
Your Helcim account includes access to helpful reporting options that give you valuable insights into your business and operations. The reports are generated based on data gathered within the Helcim Merchant Platform, so you can quickly evaluate multiple aspects of your business.
You can quickly access your reporting options by selecting All Tools and Reporting.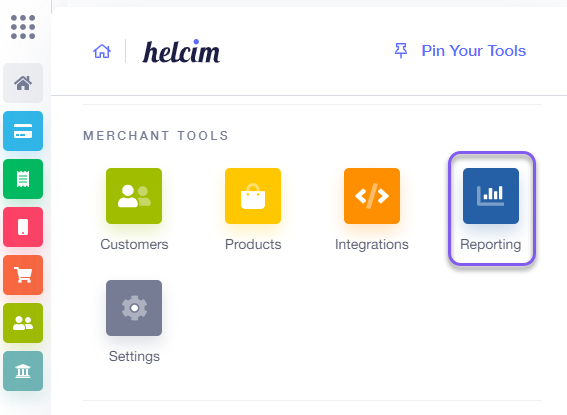 Once you have selected Reporting you will see a list of the available reports for your business, simply click on the option you want and specify which type of report in that category you want to generate.
Here are the reports available from your Helcim Account: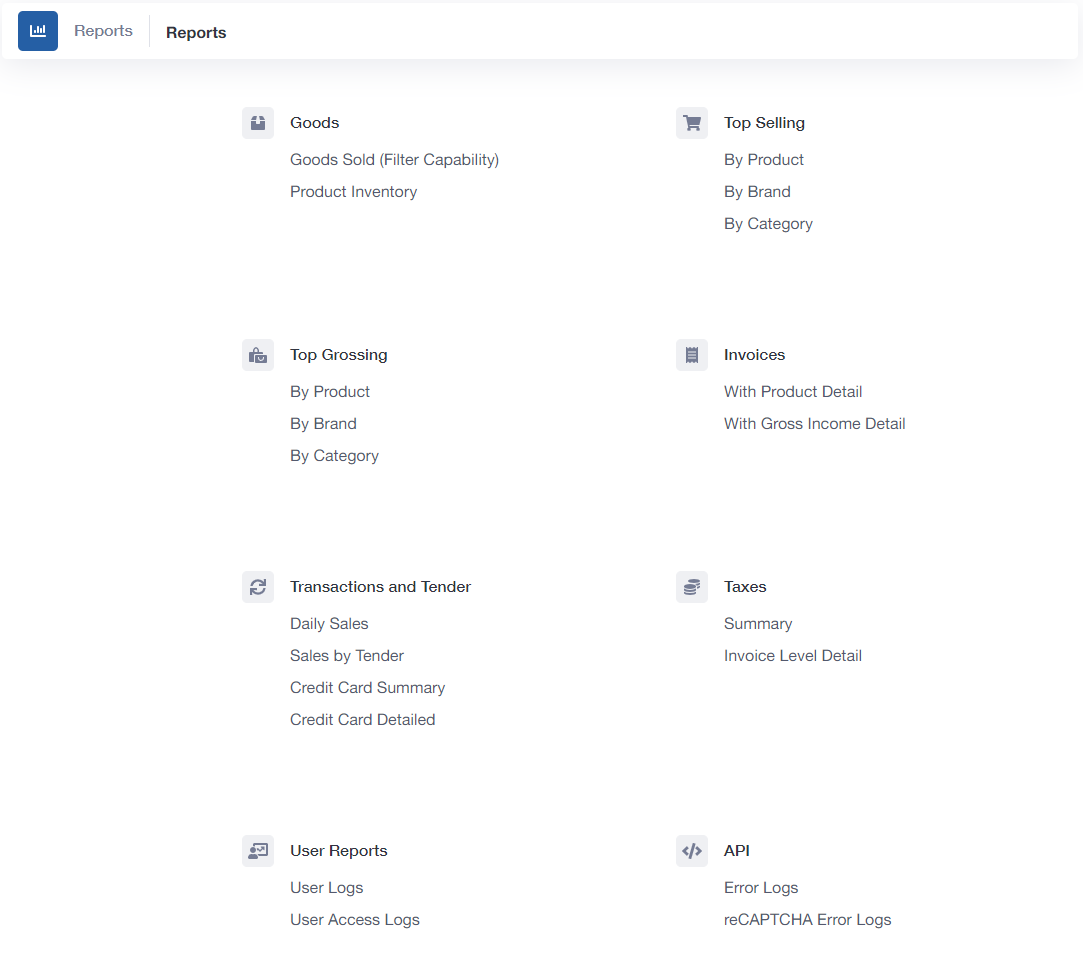 | Report Type | Options | Details |
| --- | --- | --- |
| Goods | Goods Sold (Filter Capability), Product Inventory | See which products have been selling and check on your available product inventory. |
| Top Selling | By Product, By Brand, By Category | You can run a report to see your top selling items sorted by product, brand, or category. |
| Top Grossing | By Product, By Brand, By Category | See which items earn the most income for your business at the product, brand, and category level. |
| Invoices | With Product Detail, With Gross Income Detail | Run a report on the invoices you have created with the product details or the gross income details. |
| Transactions and Tender | Daily Sales Report, Sales by Tender, Credit Card Summary, Credit Card Detailed | This report shows you a summary of your credit and debit transactions that were processed. This report excludes pre-auth (only) transactions and transactions that were voided. |
| Taxes | Summary, Invoice Level Detail | This report shows all sales tax collected on paid orders for a certain period. |
| User Reports | User Logs, User Access Logs | User Logs - This report shows you when users have performed actions within the system. User Access Logs - This report shows you when users have accessed the system. |
| API | Error Logs, reCAPTCHA Error Logs | Review if there have been any API errors logged for your account and the associated details for the error. |
ⓘ
The API Error Logs report is a helpful tool for checking on the most recent API activities if you're trying to diagnose an issue with an integration.
Once you have selected the report you want to run, simply enter the date range you want to view and click the Search Icon.

---
Was this article helpful?
---
What's Next