Completing or Renewing Your PCI Compliance
19 Oct 2023

2 Minutes to read
Completing or Renewing Your PCI Compliance
Updated on 19 Oct 2023

2 Minutes to read
---
Share feedback
Thanks for sharing your feedback!
Helcim makes it easy to complete your PCI Compliance, most businesses can answer the questions and obtain their certification all from within their Helcim account.
For an overview of PCI Compliance, click here
You have 90 days from when your account is approved to complete your PCI Compliance by answering the security questions.
To complete your PCI Compliance questionnaire, click on All Tools and then on My BusinessThen click on Security and Compliance on the left side menu.
On the landing page, you can learn more about PCI Compliance and why it is important, and view your current compliance status. If you have not yet completed your PCI Compliance questionnaire, your status will be listed as Not Compliant.

Completing the Questionnaire
To get complete the compliance requirements, click on Answer Security Questions.The questions that are generated will vary depending on your type of business and operaiions. Once the form is generated, simply work through all the questions to complete your compliance.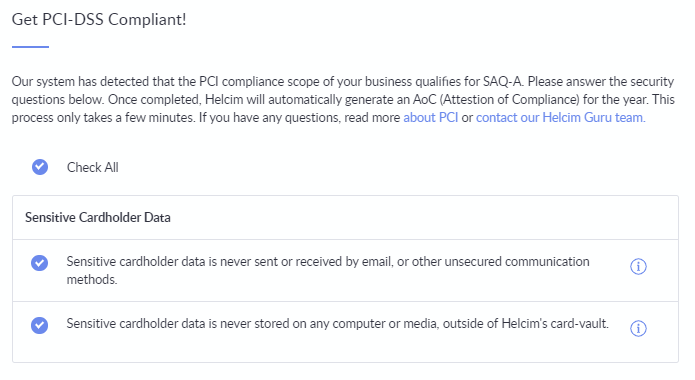 If you need more information about any of the questions, simply click on the i icon on the right-hand side for a more detailed description.
Once you have reviewed the questions, click on Submit Compliance.

You have now completed your PCI Compliance for the year. You can see your new status along with the date it is valid until displayed in green on the main landing page.

Changing Your Compliance Scope
If how you accept credit cards or your business operations change, you can update your compliance details by clicking on Change My Compliance Scope.

You will now need to manually submit your compliance.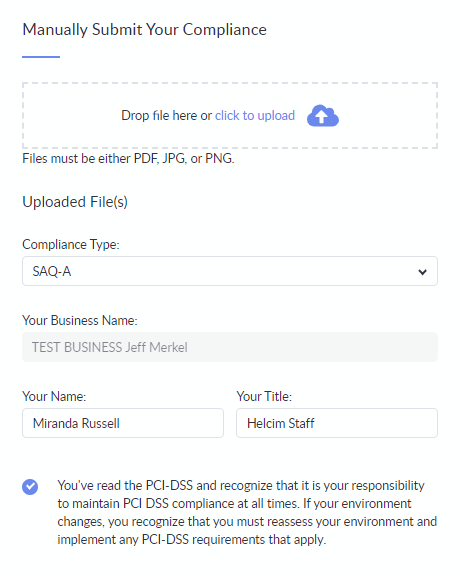 Uploaded File: Select the file you want to upload from your device
Compliance Type: Use the drop-down menu to select your compliance type
Your Name: This will be auto-populated with your username
Your Title: This will be auto-populated with the title entered in your account
Once you are done entering in the information, click on Submit Compliance.

Other compliance requirements
Additional documentation and compliance requirements will be requested if you are using the Helcim API or Integrations to send full card numbers. Learn more
here
.
Renewing Your PCI Compliance
Once you are less than 90 days away from your PCI Compliance expiring you'll be able to complete the questionnaire again and renew your compliance.
When you're ready to re-submit your PCI Compliance, select My Business and Security and Compliance if you're within the 90 day window of expiry, you will see the option to Renew Compliance.



You can now complete the questionnaire to renew your compliance for another year.
---
Was this article helpful?
---
What's Next