Reporting Options for Plans
27 Oct 2022

1 Minute to read
Reporting Options for Plans
Updated on 27 Oct 2022

1 Minute to read
---
Reporting on Subscription Plans
Your Helcim Account includes three report options for subscription plans: Dunning Management, Churn Analysis, and Queue Logs.
To access any of the reports, click on Subscription Management, then Plans, and select the subscription plan that you want to view more information style="outline: 0px; padding: 0px; margin: 3rem auto; border: 0px; vertical-align: middle; box-sizing: border-box; display: block; text-align: center; position: relative;">

Once you have selected the plan that you want to view, click on any one of the reporting options from the menu on the left-hand side of your screen.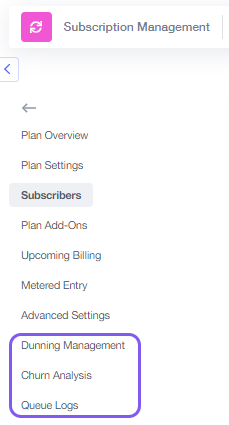 Dunning Management
The Dunning Management tool can help keep your customer's payment information up to date and reduce your attrition. 
Clicking on the Dunning Management report option for your subscription plans lets you see a quick overview of your customers assigned to the plan and if they need to update any of their information.
Activate Dunning Management
To be able to view the 'Dunning Management' options you need to configure your Subscription Management Settings first, to access these settings click on Settings, Payments and Plans, and Subscription Management Settings the Dunning Management options will be listed first on this page.

Churn Analysis
Churn Analysis shows you how many of your customers have decided to stop their subscriptions within a given time period, the reason they stopped and the lost revenue. Churn reports are not net reports - they do not take into account the gained subscribers for their calculations. They are strictly designed to report on lost subscriptions. Clicking on the Churn Analysis reports option will let you quickly see how lost customers are impacting your business.

Queue Logs
Clicking on the Queue Logs reports option lets you check on the payment status for a plan.

---
Was this article helpful?
---
What's Next