Using Helcim Accounting Sync
27 Oct 2022

4 Minutes to read
Using Helcim Accounting Sync
Updated on 27 Oct 2022

4 Minutes to read
---
Helcim Accounting Sync is currently in beta mode and available to a select group of merchants only. Merchants who signed up for Helcim after June 1, 2020 will have access to Helcim Accounting Sync shortly.
Helcim Accounting Sync helps merchants who process payments with Helcim import information into QuickBooks Online. You can use Helcim Accounting Sync to streamline the process of getting your payments data for a specific batch into a CSV format that can be exported from Helcim and then imported to QuickBooks Online for bookkeeping and accounting purposes.
By recording both the sales and payments fees from your Helcim account into a QuickBooks Online clearing account, you can match your batches to the net deposits.
Accounting Sync works best for businesses with one sales tax rate and who do NOT track inventory or sales data by customer in their QuickBooks Online account. If you are using QuickBooks Online to track invoices and customers or have multiple tax rates please review the bottom section of this article for additional details specific to you.
How to Set Up Your Accounting Sync Center
You first need to set up a QuickBooks clearing account
To prevent upload errors, you will have to create a new customer and new supplier. On your QuickBooks Online dashboard, select Add Customer to add a new contact called "Helcim Sales". Next select Add Supplier to add a supplier called "Helcim Fees"

Next, if not already done so, in QuickBooks Online, set up a sales/income account for where you would like all sales to be recorded and a bank fees/expense account for where you would like Helcim processing fees to be recorded.



The account name and default tax code used here in Step 2 will be needed for Accounting Sync.
4. You can now proceed to configuring the Accounting Sync Center settings in your Helcim account by selecting the Actions button from the Accounting Sync landing page, then Settings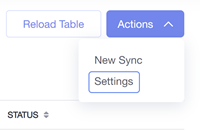 5. Now you can select either Account Mapping or Tax Code Mapping options from the menu on the right-hand side of your screen.
Tax Code Mapping: Use the textbox to enter the tax rates applicable to your business. When entering the Tax Code, ensure you use the default tax code from QuickBooks Online in step 3 above.
Account Mapping: Use the textboxes to enter your sales and payment fee information. Ensure this information matches the settings in your QuickBooks Online account.
Sales: Use exact wording here that you used for your generic sales item name from QuickBooks Online in Step 3 above.
Payment fees: Use exact wording here that you used for your generic sales item name from QuickBooks Online in Step 3 above.
Default Tax Code: Choose the appropriate default tax rate. The tax codes are populated from the fields entered on the Tax Code Mapping page.


How to Generate a Data Download from the Accounting Sync Center
You need to complete the setup instructions detailed above BEFORE you can proceed to running a data download from your Helcim account.
Begin on the Accounting Sync landing page.
Select Actions and New Sync.
Confirm the details of the data you want to download by using the drop-down menu to select the date range.
Data is generated one business day after a batch has been closed, if the data does not appear right away please check again later. If you need additional support, please contact Helcim at help@helcim.com.
Once your date range is confirmed, select Generate. Then select Reload Table to view the most recent downloads in your Helcim account. You will be able to view the current status of each download on the main landing page.
The statuses are as follows:
In progress - data is being generated
Ready - data is available for preview
Reconciled - data was marked reconciled
Downloaded - CSV was successfully downloaded
Data not available - data has not been calculated
You can preview information the information before sending it to QuickBooks Online by clicking on a data download then toggling between the Sales tab and Payment Fees tabs on your screen.
A further preview of the data can be done by clicking Actions and Download CSV. Two CSV files will be generated, one for sales data and one for the payment processing fees. They can be found in your device's downloads.

If you are using Chrome, you may receive a pop-up on the top left hand corner of your browser requiring you to allow two files to be downloaded.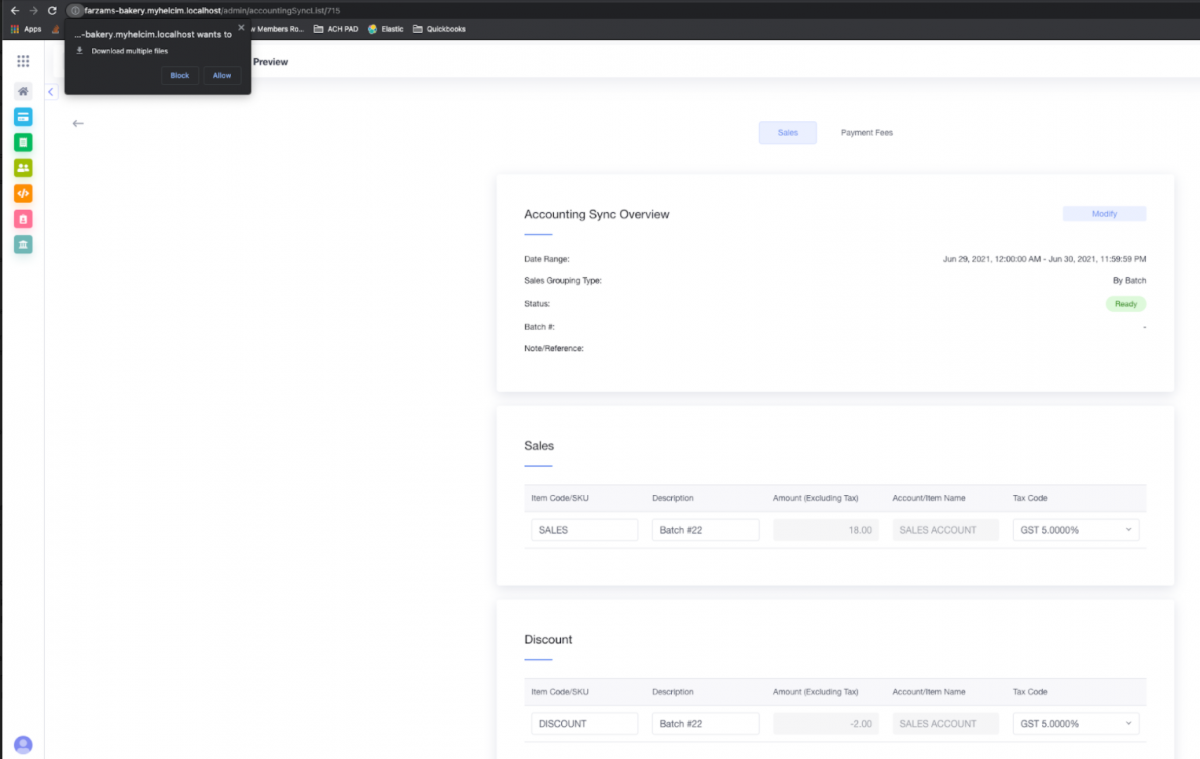 To send the batch download to QuickBooks Online, click Actions and Send to QuickBooks. You will receive a notification once the data has been successfully sent to QuickBooks Online

Toggle out of Accounting Sync and into Integrations by using the left hand navigation tool. Select Login to QuickBooks Online to send the data to QuickBooks Online.
Additional Use Case
Accounting Sync for Businesses with Multiple Sales Tax Rates or that Track Individual Invoices in QuickBooks Online
If your business has multiple sales tax rates or is recording sales in QuickBooks Online at an invoice level, continue to enter or import this information as per usual, then utilize Accounting Sync to import your payment fees into QuickBooks Online.
Follow the same steps above, but only import the payment fees CSV. You can reference the Bank Deposits details under My Business to view which invoices and fees are included in each deposit received to then easily reconcile your bank accounts in QuickBooks Online.
---
Was this article helpful?
---
What's Next