Subscription Manager
19 Sep 2023

4 Minutes to read
Subscription Manager
Updated on 19 Sep 2023

4 Minutes to read
---
Share feedback
Thanks for sharing your feedback!
Subscription Manager
New to Helcim, our revamped subscription manager!
NEW MERCHANTS
Our new subscription manager is for all net new merchants. For merchants using our Legacy Subscription Management,
click here
.
Create Plan
To create a brand new plan, click on all tools, Subscription Management, Create New Plan.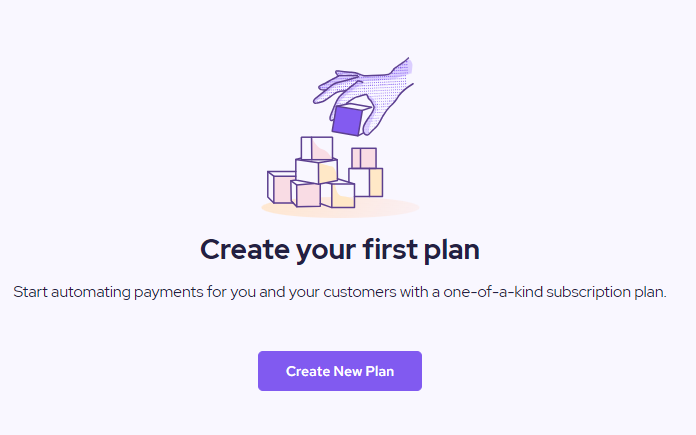 You can start by naming your plan and adding a description, as well as deciding if you want to offer a free trial period.
Free trials can be offered in a period of either Days or Weeks.

Next, set your plan's price and billing period. You can bill Daily, Weekly, Monthly, Yearly or a Custom amount.

You can also add a one-time setup fee for your plan.. The setup fee amount will be added to the plan's first billing cycle.

Select a Billing Schedule for your plan, either the day of sign up or on a set date. "On sign up" plans will bill the subscriber on their activation day, and then use this day to determine all future billings based on the selected billing period. For example, if your customer's activation day is the 4th day of the month, for a monthly plan, they will be billed on the 4th of each month. "Pick a day" plans will be billed based on the day that works best for your business. For example, if we want to be paid the 1st of each month for a monthly plan, select the 1st from the calendar.
Select how long you want customers to be billed. Plans can run until they are canceled or for a set number of billing cycles defined by the customer's subscription.

In the 'More Options' drop down you can select which payment types you want to accept for your plan. Either Credit Card, ACH or both. ACH will only be available if your business can accept ACH payments. For more information on ACH, click here.
You can also adjust the notification settings. You can select to receive a transaction receipt for each transaction processed on the plan. You can also choose if you want to send this to customers. Selecting the Recurring Queue notification will send you a email logging all the payments on this plan on a given day.

A summary of the plan will be displayed on the right hand side and will update as you make changes. Once you are happy with your plan and have entered all the necessary information, hit save and you'll be ready to add subscribers!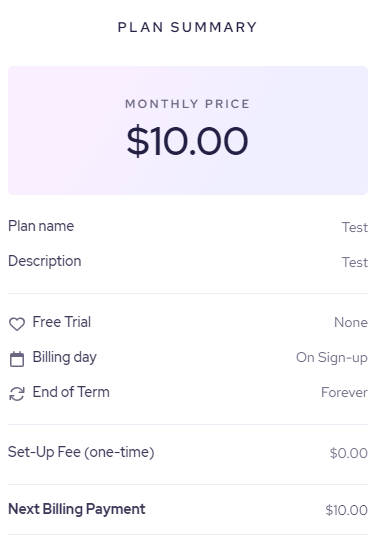 Add Subscribers

Once you have created your plan you can now add subscribers to it!
After your plan has been saved you will see the option to 'Add Subscribers'.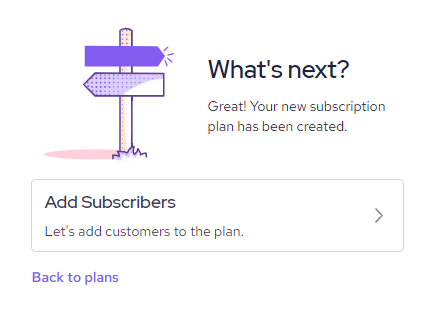 You can also add subscribers to your plan by navigating to 'All Tools', 'Subscription Management'. Opening up the selected plan will provide the options to add subscribers.

If you select 'Add a subscriber' you will need to select which customer you want to add. If you don't have a customer already in your database, you will need to add one in the Customer section of your Helcim account. For more information on adding customers, click here.

Once you have added a customer, you can select the applicable plan, subscription term length, and the activation date.
A term length can only be selected for plans that expire. "Forever" plans will have this field disabled and you continue to run until canceled.
The subscriber's activation date can be today or a day in the future. If you have the plan set to bill on a specific date you can set the activation date to determine when this will be. For example, if you add a subscriber on the 12th February for a plan that bills on the 1st of every month but you don't want the subscription to start until April you would set the activation date to April 1st. This would then be the first day of the subscription)

Next, select how you want the subscriber to pay by selecting Credit Card or Bank Payment. If the customer you add to the plan has payment information saved, the card or banking information will be autofilled. If not, you will need to add their payment information in the Customers Section.

Once a customer is added, if they have payment information saved, this will automatically populate.

Once you have filled out all the customer information, select 'Save'! You will now have the option to add another subscriber if needed.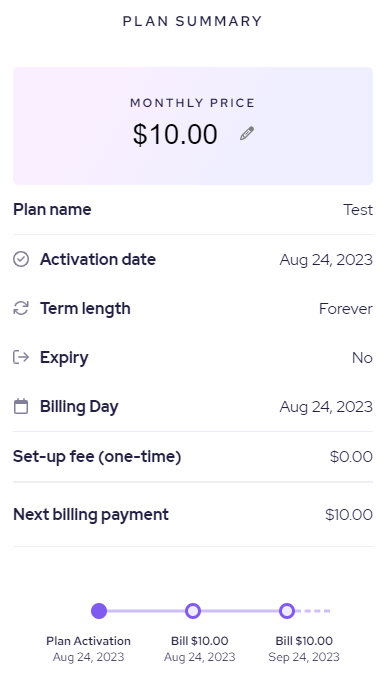 View Subscriptions
You can view your list of subscriptions by going to 'All Tools', 'Subscription Management', 'Subscriptions'.

From here you can filter the list via plan or status of subscriptions.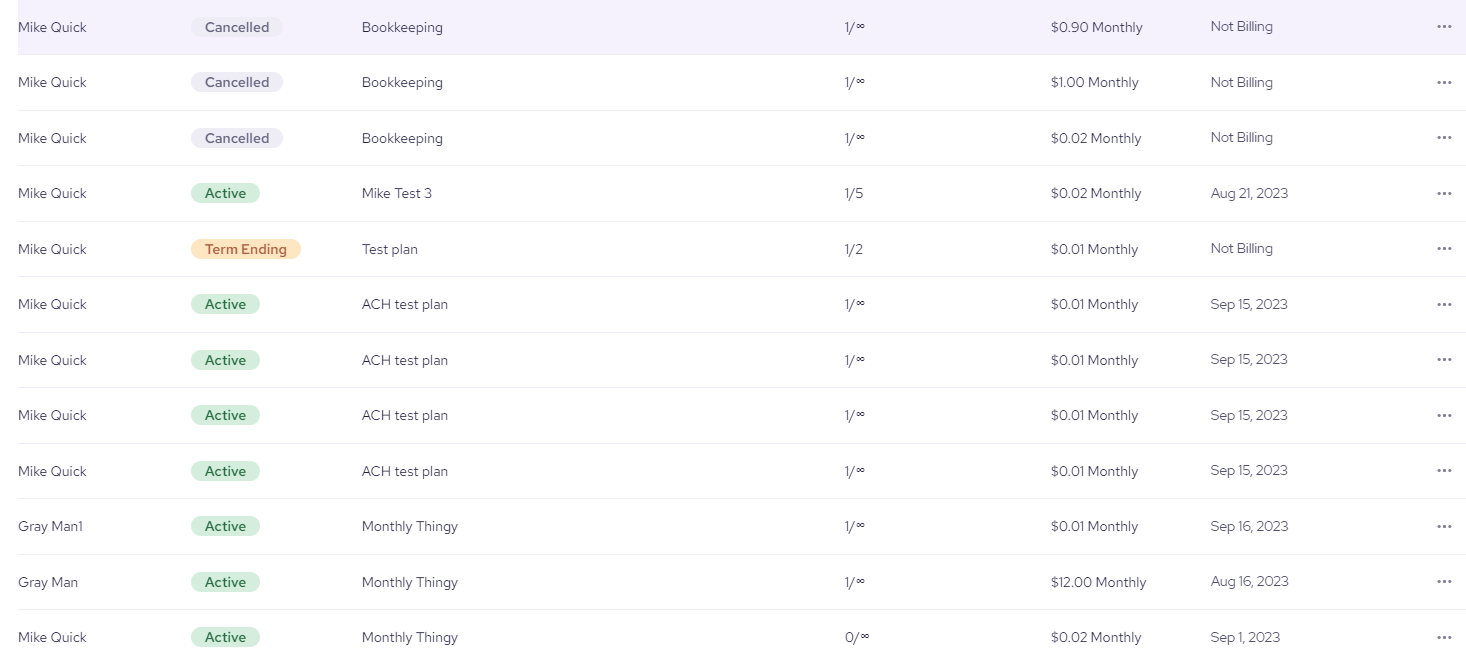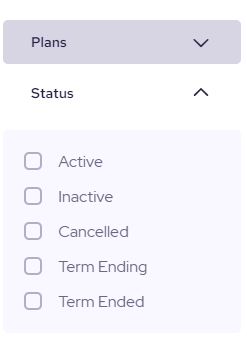 Clicking on a Subscription will open up the overview and billing history of the particular subscription.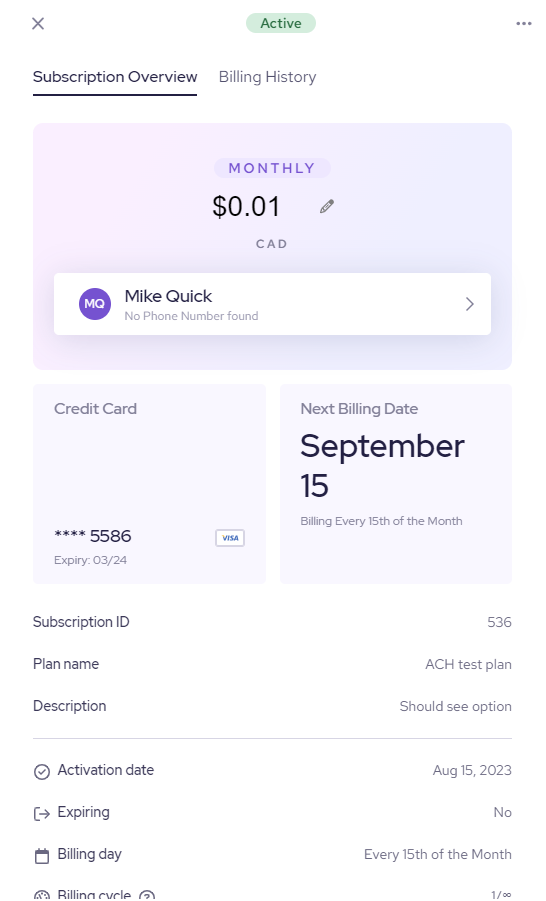 If you wanted to set a custom price per subscription you can edit this in this drawer. Click the pencil icon next to the amount.
Selecting the 3 dots in the top right will open the action menu where you can edit, delete, cancel or pause the subscription.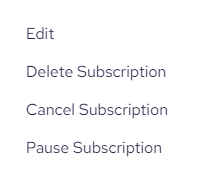 Billing history will display all payments made towards the plan.
If a customer misses a payment or the payment is declined for any reason, the status of the subscription will change to due.

Clicking into the subscription, you will see an option to 'retry' the declined payment or mark it as paid if you have collected alternative payment.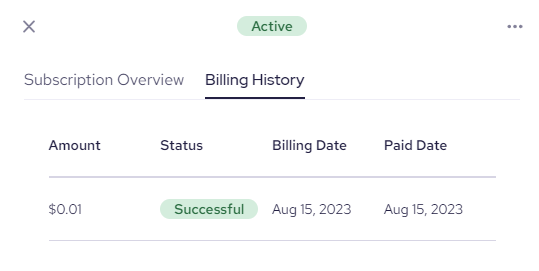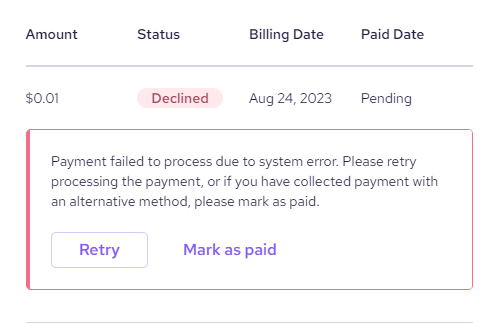 View or Edit Plans
All Tools, Subscription Manager, Plans will open up your list of plans. Selecting one will open up the plan overview as well as upcoming billing.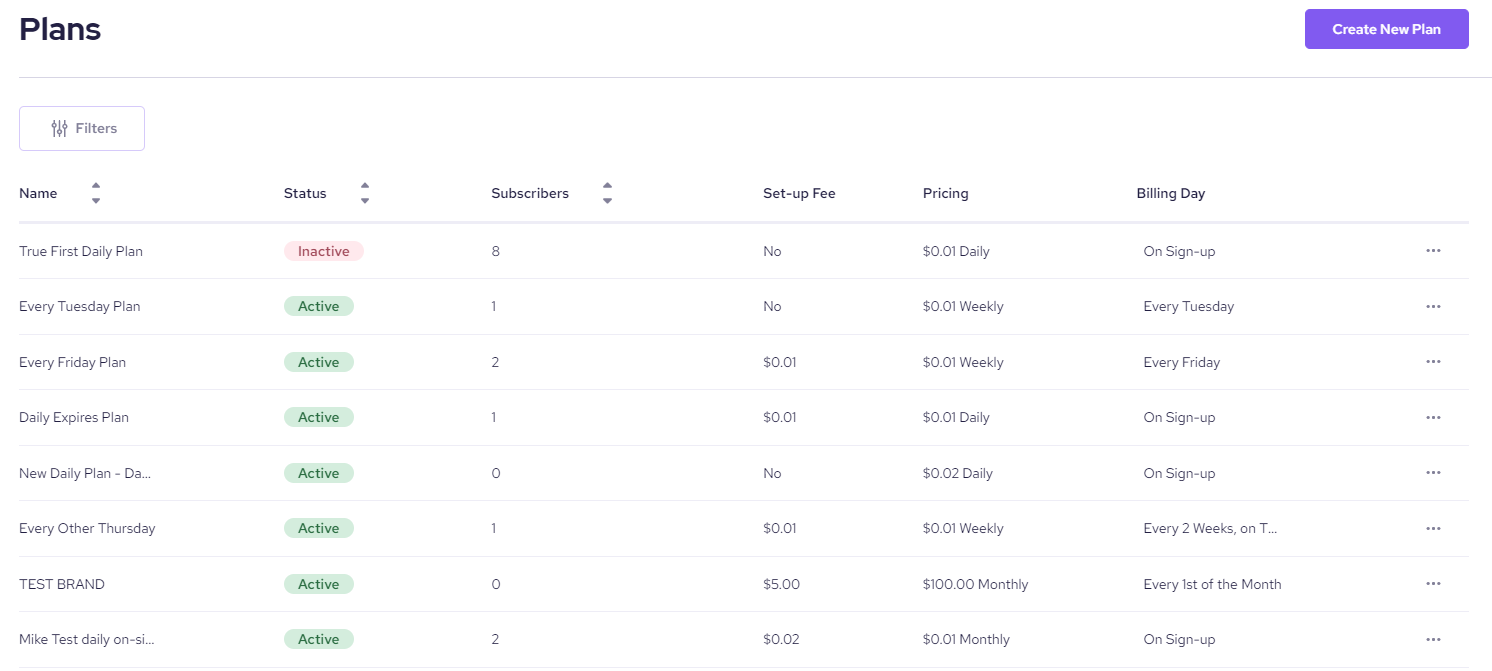 You can edit the plan name and description by clicking on the pencil icons next to each field. The 3 dots in the top right will allow you to delete or deactivate the plan. You can also view the upcoming billing for your plan.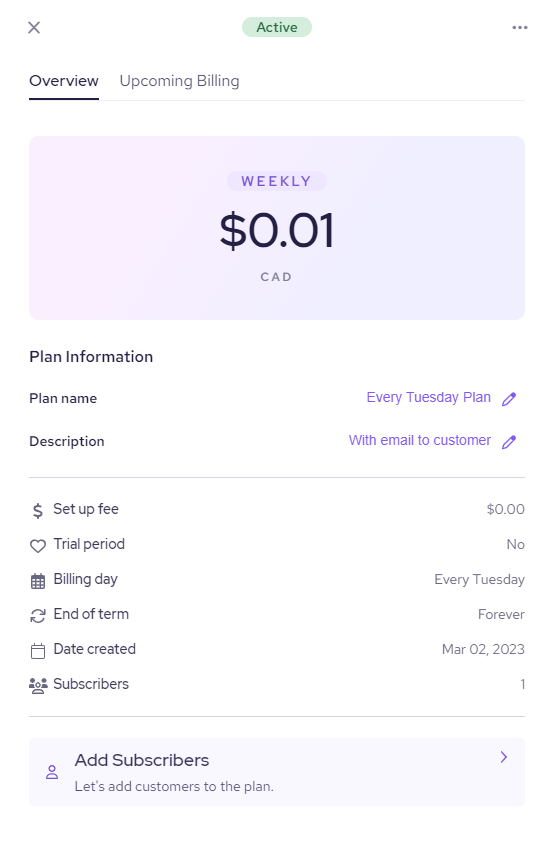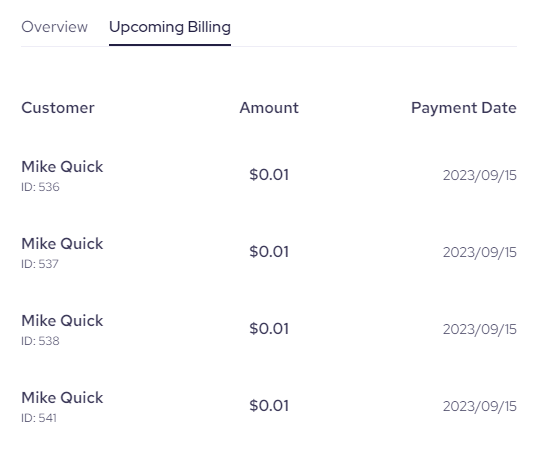 ---
Was this article helpful?
---
What's Next