Some merchant accounts are configured for gross settlements, meaning that the total batch amount you processed will be deposited into your bank account for that day. The actual processing fees that applied to those transactions, and all other transactions that month, are then withdrawn from your bank account on the 1st day of the following month.
Other processors will choose to place merchants on a net settlement configuration. This means that instead of receiving their full batch amount, they will receive the full amount minus their processing fees.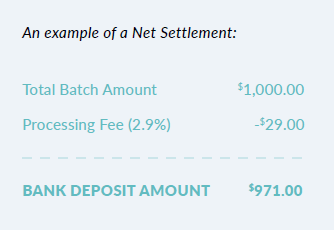 If you want to learn more about the different batch actions you can perform from your Helcim Account click here to view the support article, or click here to see how you can customize your batch settings.