Your Helcim Account sends email notifications for transactions, invoices, customer actions, subscription billing plans, and inventory.
These emails help keep you and your customers informed and save you time. By default, automated emails are turned off. We recommend reviewing the available email options and making edits before you begin accepting payments.
If you want to change the settings for any of the automated emails, you can do so through the Settings icon.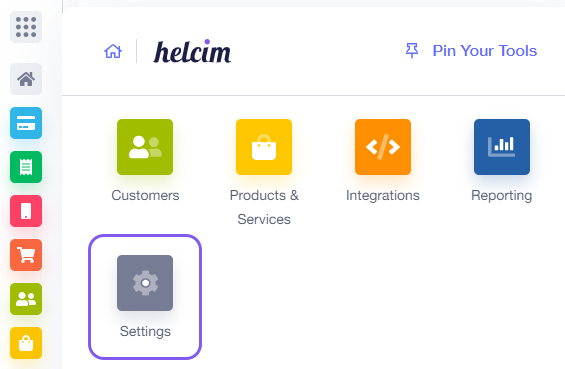 After selecting Settings navigate to Email Settings, you will open up the Email Settings landing page that includes a master list of all the available email templates you can edit.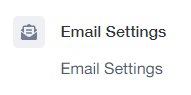 The emails are categorized based on the section of your Helcim account that they pertain to whether it is Transactions, Invoices, Customers, Subscription Management, or Inventory. The email description includes the email title and a brief overview of when the email will be sent.
To activate an email, check the empty circle next to the description so it turns blue with a checkmark.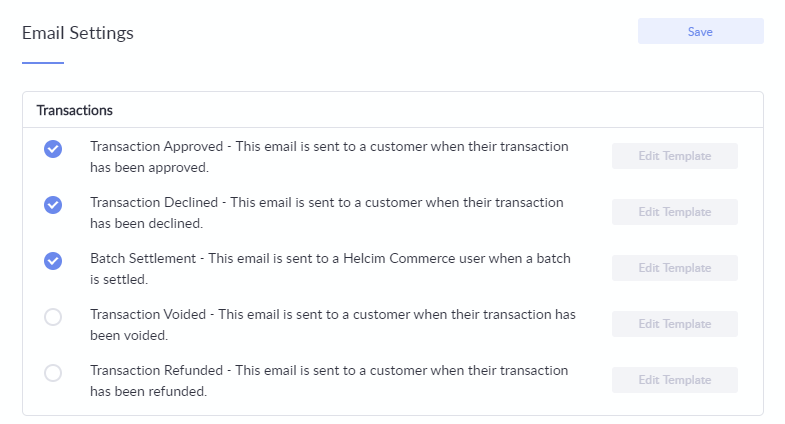 Once you have selected the email you want to activate, click on Save to apply the changes and make changes to the email.

After you have clicked Save you are able to use the Edit Template button to make changes to the email.

You can now edit either the Template Settings or the Template Content by toggling between the two options at the top of the screen.
If you are on Template Settings, you can manage the status of the email by toggling the radio button from On or Off if you wish to deactivate the email.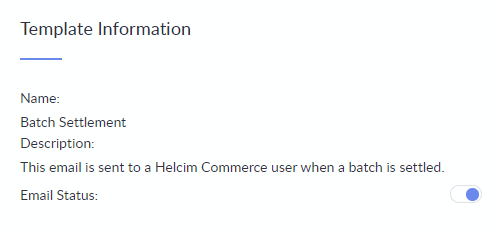 Once an email template is turned "On", the merchant email status and the customer email status will be toggled on by default. You can adjust these settings under the Email General Settings by scrolling down. For example, if you only want the merchant copy of the email sent you can leave that option On and toggle the customer copy Off.
Below that you will see the Email General Settings that allow you to edit:
Which email address you're receiving the merchant copy of the emails at
If you want to attach a PDF file to the email for referenceIf you would like to review the Template Content for a specific email, scroll to the top of the page and click on Template Content. Here you can see what content will be included in the email, including the subject line and body.If you make any changes to the Template Settings or Template Content, be sure to click Save to apply your changes. If you want to undo your changes and reset the email to the default settings, you can click Reset.