View Transaction History
To review your recent transactions, click on the Payments icon and you will be taken to the Transactions dashboard. You can also use the side menu within Payments to click Transactions to view your transaction history.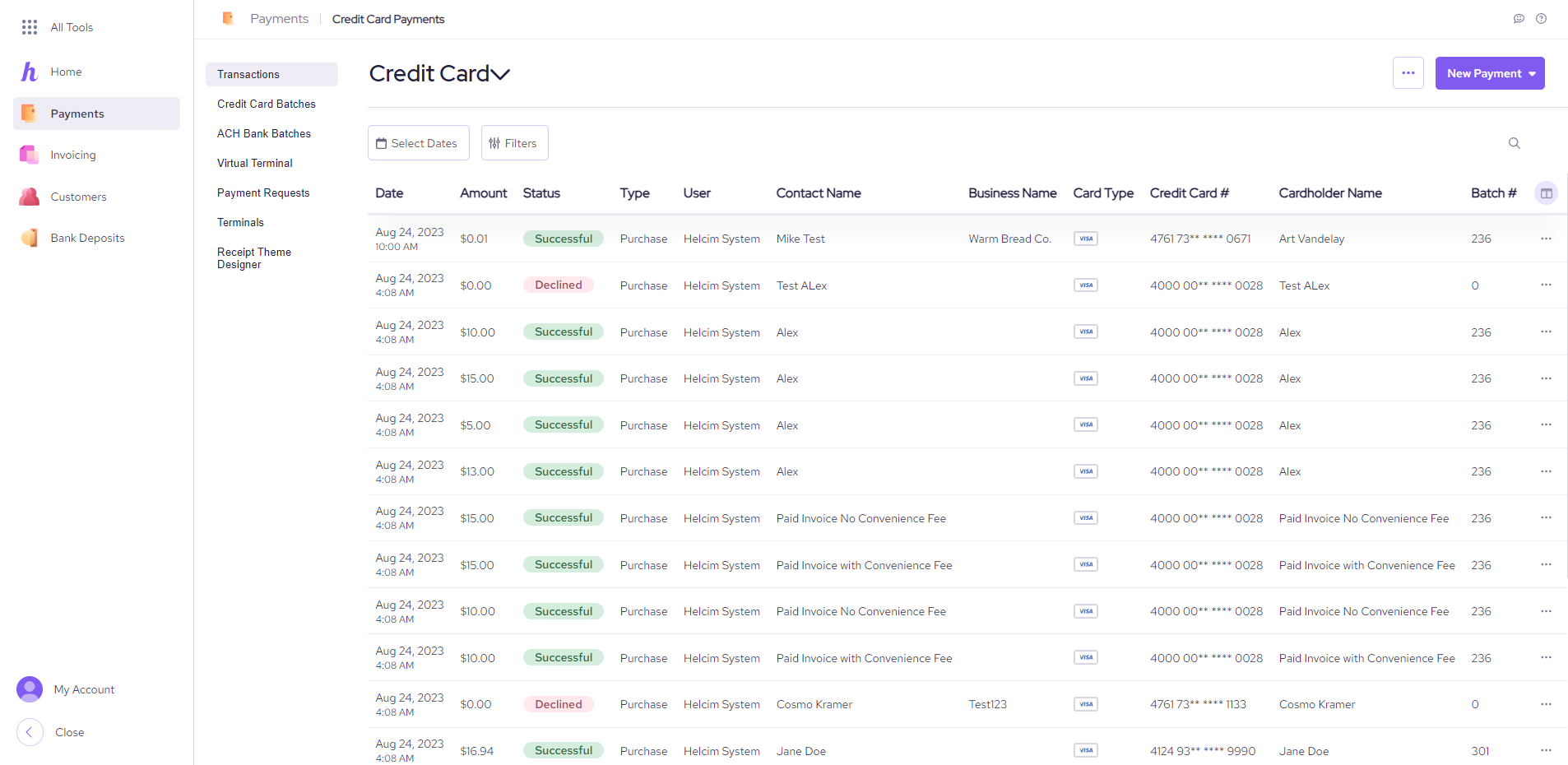 The list of transactions is pre-filtered to your Credit Card and Debit Card transaction history.
To switch between your transaction types, click on Credit Card to open the drop down menu.
You will soon be able to view your ACH transactions, Other tender transactions, and Test transactions in our new and improved UI. The current versions of these lists will still be displayed in the Classic view.
View Additional Columns
To customize which columns are displayed in your Transactions list, click on the Table icon on the right hand side and select the columns you would like to view.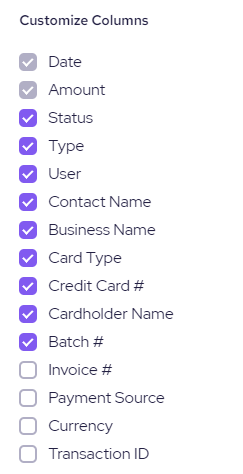 Searching for a Transaction
You can search for specific transactions by using the search bar, date filter, or by using additional filter criteria to narrow your search results. If a transaction matches your filter criteria, it will appear in the transactions list below.
Search Bar
Use the search bar to quickly search transactions by customer name, cardholder name, amount, or the last 4 digits of the card number used.

Filter by Date
To search transactions by date, use the Calendar icon to select the time frame you want to filter it by. If you would like to search for a specific date, you can click twice on a single date and click apply.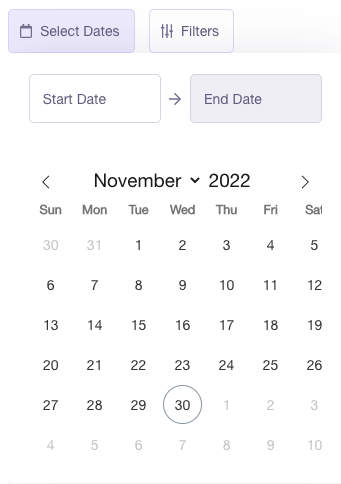 Filter by Users
To filter by Users, first select Filters then the drop down arrow next to Users. Here you can select which User you want to see. This will display all the transactions processed by that User. Once selected, hit 'Apply'.
Refunds or Captures will also display the specific user that performed these actions.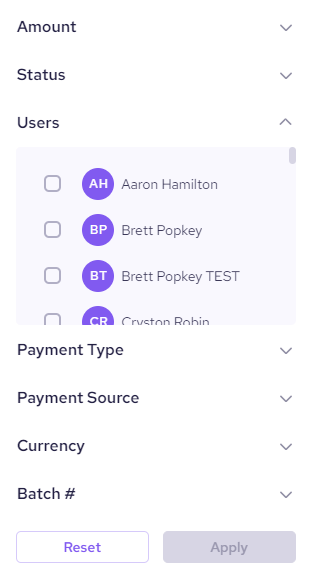 More Filters
Click the Filters icon to further filter your transactions by:
Amount

Status

Payment Type

Payment Source

Currency



Actions Available from the Transactions List
Use the three-dot menu to download or view a transaction receipt, send an email receipt, or take additional actions depending on the status of your transaction such as capturing, voiding or refunding a transaction.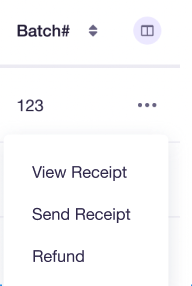 You can access this menu direct from the transactions page by selecting the 3 dots on the right hand side of the menu as shown below.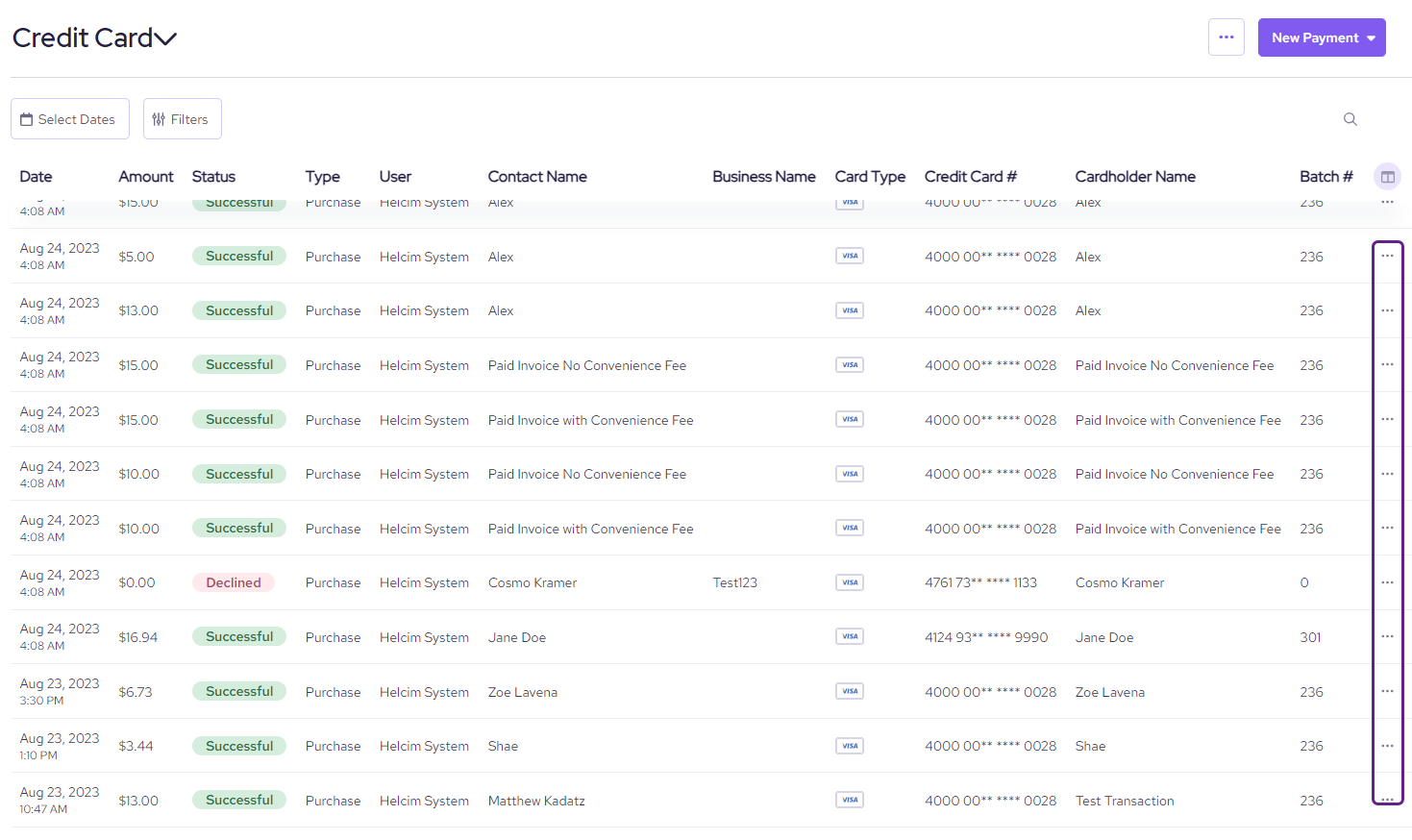 For guides on capturing and managing pre-auths as well as voiding or refunding transaction, click the links below


View Transaction Details
To find out more about a specific transaction, simply click on it to reveal additional details about the customer, invoice, and credit card associated with the transaction.
Transaction Details: Contains important details about the transaction including time processed, transaction type, and batch number
Payment Details: Displays the transaction amount
Payment Method: Contains important details about the card type and card details used to make the payment
Verification Responses: Displays Approval code, Address Verification Service (AVS) response, and CVV/CVC response